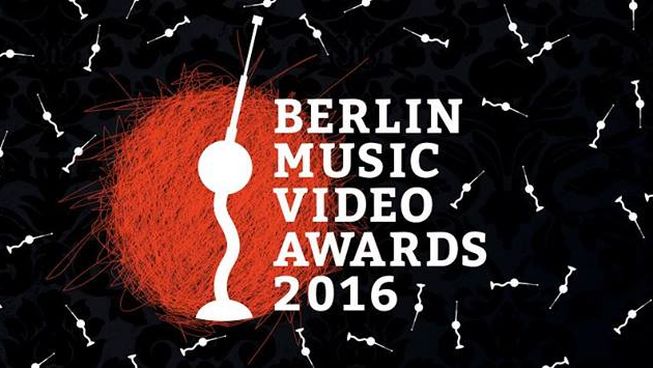 I got the chance to go to the
Berlin music video awards
this year (noticed the event just in time). It is the 4th time they organized this four day long festival. If you are a friend of music videos I really recommend this event! You will get the chance to see all different kind of music videos from all over the world. So far they have received videos from 100 countries. So if you feel bored with watching only mainstream videos
BMVA
is a good place. (They have always some big names competing too, but the nice thing is that they have the same chances as the other "less known" artists.
So I was at the festival only on the second day, but was checking videos of the other days later and will (try) to make a post about every day of the festival and pick up my favorite videos and songs.
On the first day there were competitors 3 different categories:
Best concept, Best narrative
and
Best director.
In best concept category there were quite some good participants so it was kinda hard to decide which I would like the most. But nevertheless, I ended up choosing
Yvein Monq
-
"Twun"
as my favorite one. The music video is a high heel nightmare compilation, people tripping with their high heels. You can feel the struggle of the people walking in these insane shoes. I just hope nobody got hurt while doing this video. The video is especially bit hard to watch if you have had a ankle injury yourself!
The song itself is also a good one, cool, bit down tempo house'ish song. The music video and song is a collaboration of three different countries: Spain, Hungary and France.
Here is the music video.
You should also check Yvein Monq's Soundcloud channel:
As a second I would choose from the best concept category Elliot Moss - "Pattern repeating" from Norway. This music video invites you to peek inside a life of a Norwegian green morph suite family. And no, not every family is wearing green morph suites in Norway! And this family seems to be very sporty too and there's one golden family member who seems to like bondage.
Here is the music video:
Elliot Moss - Pattern repeating
Elliot Moss – Pattern Repeating (Official Video)
from
Elliot Moss
on
Vimeo
.
Underwater filming seemed to be a big theme in this year's contestants. So this music video is not making an exception. The whole video is shot underwater, I wonder if they used professional free divers for this..song is from a more known artist
Naughty boy
ft.
Beyonce
&
Arrow Benjamin
with the song
"Runnin' (Lose it all)".
The video has a dreamy feeling and parts of the video is shot upside down.
Naughty boy ft. Beyonce & Arrow Benjamin - Runnin' (Lose it all)
I think the music video survives from the cliches of an underwater video and has quite some beautiful floating moments in it. This was my favorite underwater video from the whole festival (believe me there's was quite some underwater music videos!)
Third one I would like to choose Yanis with "Hypnotized". They had really hypnotized all the dancers of the music video (you can see it in the video too). The song is pretty easy going, nice Saturday afternoon sun song.
YANIS - Hypnotized
from
YANIS
on
Vimeo
.
I would like to mention still from the best concept category one Polish entry: Rysy - "The Fib". The video itself wasn't that much my thing, though I really like the minimalism of it, but I liked the song even more and was astonished to find how much cool house and techno music is coming from Poland and found some other interesting artists via Rysy. Here the video:
Rysy -"The Fib"
I ended up listening some more songs from Rysy and couple other polish artists. So now some non BMVA-videos.
You should watch the next video from a big screen.
Rysy - "Brat"
I found also one amazing singer via Rysy..
Justyna Swięs
she has the most amazing voice.
Justyna Swies
Sonar soul - "The dive feat Justyna Swies (The Dumplings)
I will definitely keeps my ears open in the future for this singer! Okay, one more artist that was not BMVA related. Polish band which I found via Rysy...called Bokka. They play more pop'ish music, but nevertheless nice stuff!
Bokka - "Let it"


The next video from Bokka is a really beautiful one. Telling a story about a boy who was dreaming about flying and built his own wings. (Oh yes, bit syrupy, but watch it anyhow). I really liked the video and the song! Definitely worth to check some other songs from Bokka too!
Bokka - "Town of strangers"


Okay okay, now back to BMVA!
So the next category was Best narrative...it was first bit hard to find your favorite from this category when many of the songs were about just killing, shooting and bloody people. But when I saw Lucille Crew's - "What the hell" and Savage's - "Like Michael Jackson" I was like yeah, finally!
Lucille Crew had a nostalgic music video made as a old computer game. I really liked the theme and the jokes in the video, like when you jump and catch a joint you will be soon flying with a jetpack trough the game and the girls are throwing razor blades in fire. Even though I'm not a big fan of hip hop but I still liked this song!
Lucille crew - "What the hell"
One other music video that I wanted to mention also from the best narrative category was Valsaland - "Ensamheten". It tells a story of a lonely robot (like the name ensamheten - in English loneliness)
But my favorite from the best narrative category is definitely Savage - "Like Michael Jackson". The songs is sort of a mix of trap music and rap. But this music video made me laugh..it all starts with a lonely glitter glow having an adventure... I recommend to watch this from a big screen and bit loud.
Savage - "Like Michael Jackson"
SAVAGE | Like Michael Jackson
from
James Chappell
on
Vimeo
.
The last category of day 1 was Best director. I really have to admit that it was hard to find something what I would have really liked from this category...
Petite Meller was competing with "Baby love". I had never heard anything from this artist before...and when watching the music video I was just being concentrating to the extra clownesque lipstick what she has. Ans I was thinking in my head is this some new disco copy of Yolandi Vi$$er from Die Antwoord. See for yourself the comparison.
I couldn't choose a favorite, but for sure the craziest video in this category was from Dillon Francis - "Not butter". The music video repeats itself and every time the same party and story gets more crazier. This is a video not to watch at work. Sex sells??
Dillon Francis - "Not butter"
Some new music video reviews from the BMVA coming soon! Stay tuned!